As you all know by now I'm a happy Coconut Grove resident, wife, mom of 4 and I'm always auditing community news for fun activities to enjoy solo or as a family. In that spirit I'm going to begin sharing my picks for top happenings in South Florida each Tuesday. The events selected will highlight the fact that there is something for every age range and interest in our blossoming community.
The Jill Penman Group hopes you thoroughly enjoyed St. Patricks Day in the Grove yesterday. It seemed like every restaurant and bar had some sort of nod to Irish culture with special menus and authentic bands. Once you've recovered from the celebrations, we suggest attending Wednesday's free event at the Coconut Grove Sailing Club where the documentary Maiden Trip will premier at 7:30PM.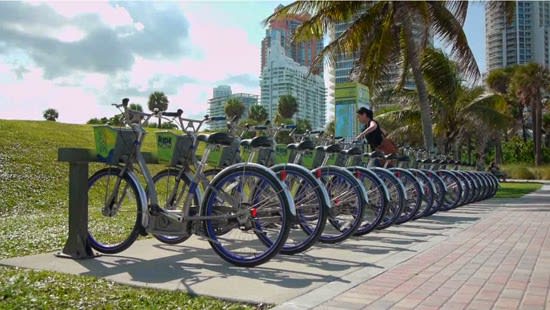 Miami Beach deco bike station shown here
For more fun this week, we're excited to announce that Vizcaya is preparing for their 2016 Centennial by enhancing their surrounding community with a bike sharing station opening this Thursday at 4:30 on the NW corner of SW 32 Road and South Miami Ave. Their goal is to support the growing pedestrian and bike traffic in the area with the solar powered station that will be part of the city wide bicycle-sharing program spearhead by DecoBike. This Vizcaya station will provide a green friendly connecting point to Central Grove and Brickell neighborhoods.
Work with a Coconut Grove specialist as you explore real estate opportunities in the lovely community, call today for a buyer or seller consultation with the Jill Penman Group at 305.807.9199. Our philosophy is that bigger is not better, better is better. We focus on the results that matter most to our clients and look forward to working with you.