As you all know by now I'm a happy Coconut Grove resident, wife, mom of 4, and I'm always auditing community news for fun activities to enjoy solo or as a family. In that spirit I'm going to begin sharing my picks for top happenings in Coconut Grove each Tuesday. The events selected will highlight the fact that there is something for every age range and interest in our blossoming community.
Free Yoga in Peacock Park
January is a great month to get active as a family and thanks to the Peacock Park Yoga series each Tuesday night, personal health doesn't have cost a fortune. Free outdoor yoga classes open to all ages will encourage community members to de-stress with beautiful views of Biscayne Bay. The Vinyasa flow style instructed by Dharma Studio will take place from 6-7PM tonight. Tonight is also the first-ever Avenue J Music Festival at The Barnacle Historic State Park. The alternative/Indie rock festival with a Jewish flavor will feature 4 different bands from around the world. Drop by from 6:30-10:30PM to watch Distant Cousins from LA, Levi Robin from NYC, Gat Brothers from Israel, and locally based Aaron Holder. On January 15th, during the UM vs. FSU game, The Young Associates of the Coral Gables Museum and Generation Miami will host a Young Professionals Night at UM. Networking over cocktails is sure to inspire new connections and career opportunities. The sports lover can enjoy a weekend at the 19th Annual Dr. Martin Luther King Jr. Basketball Classic at Ransom Everglade School. The all day exhibition of Florida's most elite 40 basketball schools will offer entertainment for the whole family.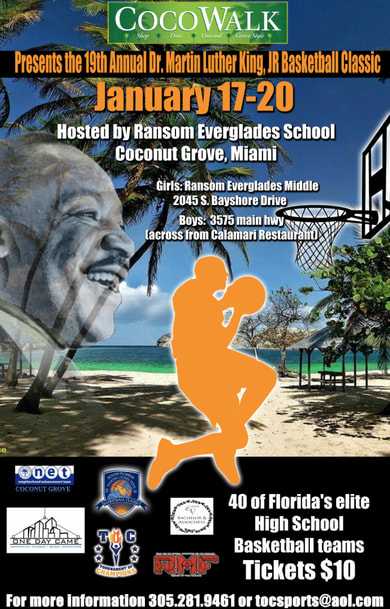 19th Annual Dr. Martin Luther King Jr Basketball Classic Ransom Everglades
For more information on the Coconut Grove lifestyle continue to read updates on my blog and reach out via phone for more information: 305.807.9199.