The partnership between ONE | Sotheby's International Realty and the Jill Penman Group continues to be a match in excellence. Just as we report on the success of our team, we also like to report on the general performance statistics of ONE SIR. It was reported last week that ONE SIR leads the rest of their competition in market share for condominiums over $1 million in Miami-Dade County. This is a testament to strong relationships with sellers and a strong ability to place buyers in exceptional properties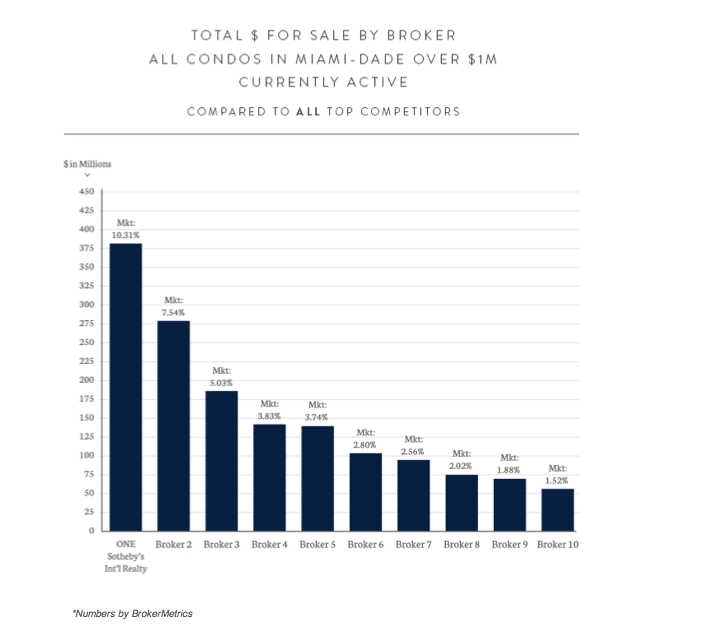 Compared to all top competitors, data from BrokerMetrics shows that ONE SIR brokers lead the total dollar volume in all 2013 Miami-Dade condo sales over the $1 million mark. In condo listings that are currently active, ONE SIR brokers command the highest volume of pricey properties. As this self fulfilling momentum continues to gain steam, the Sotheby's network in South Florida continues to show their strength and contribute to the power of the international brand. With the trend towards development of new condos in the area, particularly in Coral Gables, the Jill Penman Group is excited to work with clients to pursue this category of listings. Please review the full report on ONE SIR stats on our ISSUU homepage.
Work with a Miami-Dade County specialist as you explore real estate opportunities in the lovely community, call today for a buyer or seller consultation with the Jill Penman Group at 305.807.9199. Our philosophy is that bigger is not better, better is better. We focus on the results that matter most to our clients and look forward to working with you.