California Dreamin'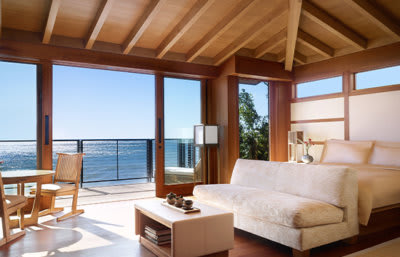 The Scoop's summer itinerary travels to Southern California. Next stop: Los Angeles. A sister city to Miami in many ways, the laid-back metropolis fosters an exciting balance of natural beauty, culture and creative businesses. Further linked in their stunning coastline, L.A.'s beachfront communities beckon a relaxing vacation without missing out on cosmopolitan perks.
Start your holiday by checking into Nobu Ryokan Malibu, an authentic Japanese retreat perched along Carbon Beach a.k.a. Billionaire's Beach. Tech mogul and Malibu resident Larry Ellison partnered with the Nobu empire team including Nobu Matsuhisa and Robert De Niro to renovate a midcentury-modern motel near Nobu's Malibu restaurant. Interiors and lush gardens channel omotenashi, the Japanese art of subtle hospitality, blended with California's organic aesthetic. Sixteen rooms with ocean and/or garden views feature cozy textures, warm woods and exquisite amenities from Anichini bed linens to Loro Piana cashmere robes. Mini bars are stocked with Dean & DeLuca snacks, and a steaming pot of green tea welcomes each guest. Some accommodations add indoor or outdoor fireplaces and teak soaking tubs. The feast for the eyes stretches beyond the Pacific Ocean's allure, which may be enjoyed from the extensive ipe deck to a small gym. Stroll the garden landscaped with native plants and intimate lobby for the owners' personal artworks and Nakashima furniture.
22752 Pacific Coast Highway;
---
Under the Tuscan Sun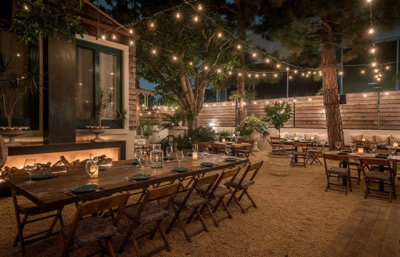 Much like Miami's Mandolin, Fia restaurant became an overnight hot spot for its stunning courtyard. The Santa Monica newcomer's name comes from Saint-Fiacre of Breuil, the patron saint of gardens, an apt description given the 200-seat, Tuscan-inspired space's lush array of flowers and ferns. French doors and decorative wrought-iron also woo diners before they've even taken their first bite of British chef Brendan Collins' cuisine. Favoring Italian-themed seafood, his menu includes Spanish octopus with pasta e fagioli and lobster Bolognese with hand-cut capellini. The California locale dictates plenty of vegetable-forward dishes as well, while meat eaters will find everything from quail to dry-aged porterhouse. Desserts such as ricotta bombolino with salted caramel and affogato chocolate sauces entice starlets to cheat on their strict diets.
2454 Wilshire Boulevard; 310.586.1707;
---
The Other Stars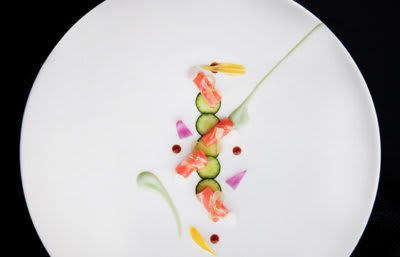 The L.A. dining scene is on fire, and the proof is in the pudding with the recent round of Michelin star announcements. A trio of restaurants earned two stars: Somni by José Andrés at sbe; Vespertine, chef Jordan Kahn's wildly ambitious, gastronomic venture in Culver City, and n/naka, which specializes in kaiseki, a Japanese culinary art form based on balance and seasonality (pictured). The last restaurant was founded by chef Niki Nakayama, who spent three years traveling throughout Japan to study various regional dishes. A stint with chef Masa Sato introduced her to kaiseki, which would become her ultimate calling, but she originally opened the successful Azami Sushi Café upon her return here. At n/naka, choose either her 13-course Modern Kaiseki or its vegetarian version; both source ingredients from the restaurant's organic garden. Wine and sake pairings are separate.
3455 South Overland Avenue; 310.836.6252;
---
Mod Squad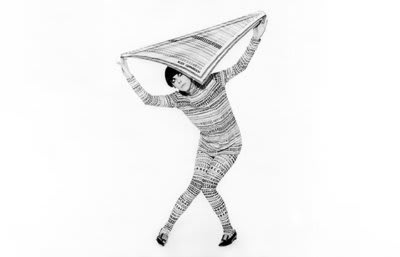 The Skirball Cultural Center celebrates the genius of one of the West Coast's most famous fashion designers in "Fearless Fashion: Rudi Gernreich" through September 1. The Austrian native, who immigrated here as a teenager in the late 1930s, gave the world the thong, the monokini and the foundation of California sportswear, among his many contributions to fashion. Most productive in the Mod-fueled Sixties, his label also incorporated the era's major trends like micro minis, clear vinyl insets, unisex caftans and women's pantsuits. Many exhibit goers will recognize his model and muse, Peggy Moffitt; the L.A.-based collector and devotee lent many of her exquisite ensembles designed by him for the show. Television clips, audio recordings and ephemera offer deeper insight into his prolific career and personal life.
2701 North Sepulveda Boulevard; 310.440.4500;
---
We'll see you next week with even more of South Florida's places to go!