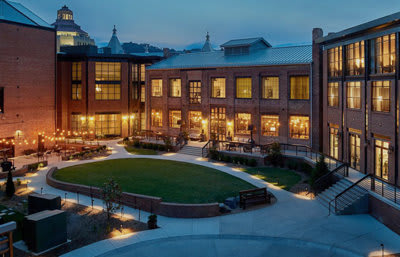 The Scoop has been on the road for the whole month of August. Our last leg is the Appalachians of western North Carolina. Next stop: Asheville. South Floridians flock to the region for mountain breezes and fall color. The short flight makes the progressive city a convenient option, too, especially on holiday weekends like Labor Day.
The hotel pool has significantly improved with the influx of upscale visitors. To get a sense of local history on top of luxurious accommodations, check into the Foundry. Located in a historic neighborhood, the red-brick boutique property seamlessly combines a renovated, former foundry that manufactured steel for the nearby Biltmore Estate in the late 1800s with new construction. Design buffs should book a Historic King room for original hardwood floors and exposed brick. All 87 rooms feature premier amenities including Nespresso coffee makers. Heritage also meets modern in the details, such as a string band concert during happy hour and a Tesla as the house car. There's no reason to take it to dinner, however. Simply walk over to celebrity chef John Fleer's onsite restaurant Benne on Eagle. Chef de cuisine Ashleigh Shanti is the real star of the show for her combination of West African and Appalachian cuisines, where akara (black eyed pea) fritters are served with piri piri (chili) yogurt and sorghum mustard.
51 South Market Street; 828.552.8545; Click here
---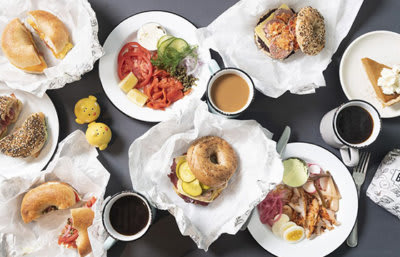 Asheville's culinary chops are quickly catching up with foodie meccas Charleston and New Orleans. Here are more tips to treat yourself. Cúrate and Nightbell chef owner Katie Button expanded her local empire with Button & Co. Bagels. But these are no run-of-the-mill variety. She makes her own sourdough starter and custom flour blend milled at Carolina Ground. Choose from a broad selection of bagels (rye, everything, salt) and spreads (ramps, smoked trout, blueberry and lavender). Bagel sandwiches and plates add gravlax to a gourmet version of bahn mi. Button is partnering with other local chefs, farms and food makers for Chow Chow, an inaugural festival about Appalachian fare on September 12-15. The packed schedule presents chef demos, farm tours, the Pickled in the Park grand tasting and more.
32 South Lexington Avenue; 828.630.0330; Click here | Visit Us
---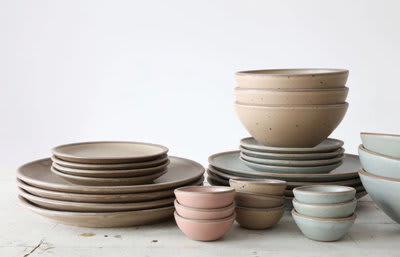 East Fork Pottery is on a mission one mug and dinner plate at a time. The regional cottage industry for minimal ceramics relocated to a new state-of-the-art factory in the Biltmore Village. Following in the footsteps of Italian fashion brand Brunello Cucinelli's utopian headquarters, husband-and-wife owners Alex and Connie Matisse encourage the staff to share meals together at a long dining table, among many workplace perks. If the name rings a bell, Alex is the descendant of the great French artist Henri Matisse. He discovered his passion while a teen and apprenticed with ceramists around the state. The couple's collection uses hand-thrown local clay flecked with iron and glazed in neutrals and contemporary, color-blocked jewel tones. Shop their boutiques in Asheville and Atlanta or online.
82 North Lexington Avenue, Asheville; 828.575.2150; 1170 Howell Mill Road, Atlanta; 678.263.0480; Click here
---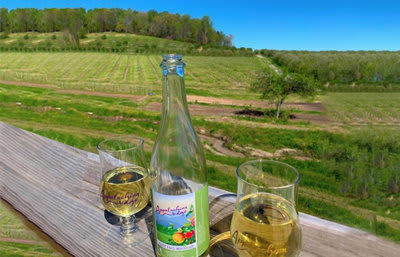 Ranked in the top three U.S. cities for craft beer, Asheville is home to more than 25 breweries. But not everyone likes beer, so here are alternatives for cocktails, cider and wine. Sovereign Remedies farm-to-table restaurant is also popular for garden-to-glass libations like the Ode to Lily with Japanese whisky, rose-infused Cocchi Rosa and rosemary limoncello. Oenophiles can pick from approximately 60 wines by the glass at District Wine Bar. The new hangout's list focuses on natural wines from small-batch growers and female winemakers. Natural wine is having a moment, and Crocodile wine shop specializes in all-natural, domestic and international wines as well. Cider drinkers have plenty of in-town options like Noble and Urban Orchard. For a more in-depth experience, visit Appalachian Ridge Artisan Hard Cider in nearby Hendersonville. The multi-generational, family-owned orchard imports apple trees from Normandy for crisp, dry ciders to sparkling varieties and apple brandy. Order a flight in the adorable tasting barn with countryside vistas.
Click here | Visit us | Click here 731 Chestnut Gap Road; 828.699.7507
---
We'll see you next week with even more of South Florida's places to go!