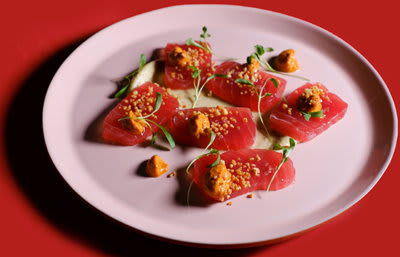 After operating one of the most popular stands for authentic tacos in South Florida, the husband-and-wife owners of La Pollita in the Miami Design District thought it was time to open a bona fide, sit-down restaurant. Unfortunately for Mexican food fans, they shuttered their former dining destination and switched gears entirely menu-wise. The good news is Luciana Giangrandi and Alex Meyer are just as talented with Italian cuisine at Boia De, which opens today in nearby Buena Vista. Italian for "Oh My!," the adorable spot that only seats 24 diners marks the couple's brick-and-mortar foray. Though tiny, it gives them a grander stage to show off their impressive culinary backgrounds. Before their meet-cute at The Nomad in New York, they'd collectively cooked at Scarpetta and Eleven Madison Park in New York and Animal and Son of a Gun in Los Angeles. Giangrandi, a Miami native, also spent a summer in Tuscany. Lucky for her hometown, she wooed Meyer to return with her. Their amazingly simple fare—chopped salad, tuna crudo with Sicilian pesto, clams with 'njuda (spicy salami) and grilled yellowtail snapper with crispy artichokes and Meyer lemon aioli—arrives just in time for light summer suppers. Leave the grilling to them, too, from tender pork to Florentine-style NY strip. Local partnerships include Proper Sausages, Frice Cream and Sullivan Street Bakery's Miami branch.
5205 Northeast Second Avenue; 305.967.8866;
---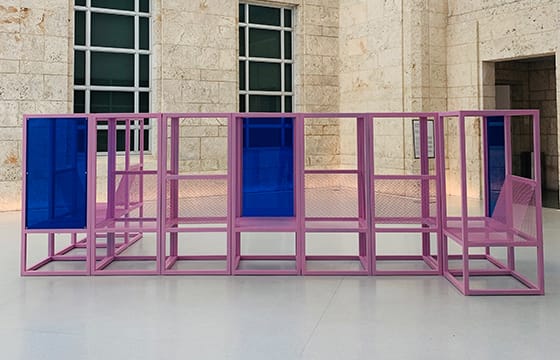 The Bass art museum doesn't let summer slow it down. The season's calendar is jam-packed with ongoing activities for all ages. Family Day, whose next complimentary event takes place on June 30, celebrates the museum's current exhibition by textile artist Sheila Hicks. Channel her fabric sculptures during "The Fantastic World of Weaving" workshop while experiencing Family Day's conversations, guided gallery tours and more. For budding artists aged 5-12, the Bass hosts weekly summer art camps through August 16. Professional museum educators and certified art teachers lead hands-on projects for various media. It's also the final weekend to view Miami- and Berlin-based artist GeoVanna Gonzalez's site-specific installation. PLAY, LAY, AYE, the modular sculpture pictured here, examines how public art can be more inclusive for all lifestyles.
2100 Collins Avenue; 305.673.7530;
---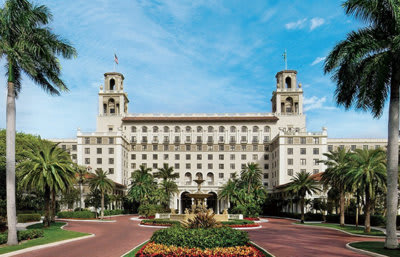 Celebrate next week's Fourth of July holiday in total splendor at The Breakers. Palm Beach's premier luxury resort offers Independence Day festivities with an old-fashioned flair. The best view in town for the fireworks display is from its Flagler Steakhouse's breezy terrace overlooking the golf course and Intracoastal. Start with a three-course, prix-fixe dinner ($185 per person) before the show. Or opt for the resort's Beach Club Restaurant and Ocean House's all-American buffet beginning at 5:30 p.m. ($95 per person; $45 for children 12 and under). Along with classic hot dogs and hamburgers, kids especially love the baked potato and ice cream bars. Parents can grab a chaise lounge to sip sparkler cocktails. Check the web site for special promotions such as spa treatments and fitness classes. The Breakers' Ocean Course also hosts a well-attended Junior Golf & Tennis Camp. Sign up for full- and half-day sessions through August 23.
1 South County Road; 866.684.0273;
---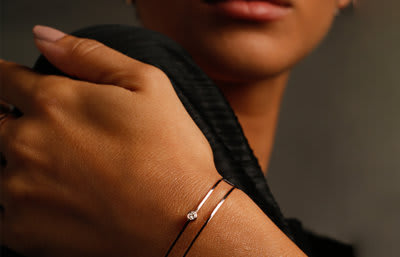 For summer birthday gifts, look no further than South Florida-based Kult Jewelry's new collection for men and women. Titled "Sur Le Fil," new pieces continue French Caribbean designer Jessie Bonne's minimal aesthetic inspired by the humble silk thread. She introduces precious materials like solid yellow and rose gold accented with white and black diamonds. Her chic, hand-crafted designs serve as a metaphor for the balance between delicacy and strength and never outshine their wearers. Find new earrings, cuffs, pendants and earrings at Mrs. Mandolin (4218 NE Second Avenue) in Miami or Egan boutique at the Cadillac Hotel in Miami Beach (3925 Collins Avenue). For special orders and trunk show inquiries, contact Bonne.
786.717.0298;
---
We'll see you next week with even more of South Florida's places to go!