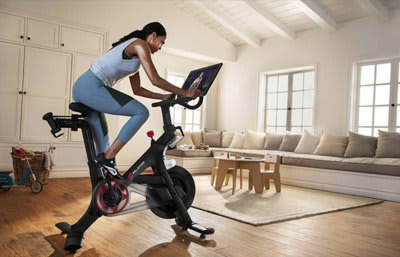 Interactive fitness platform Peloton launched additional showrooms in South Florida for diehard fans and curious first-timers to try its stationary bikes and treadmills as well as addictive, streaming classes by star instructors. To celebrate the grand openings of locations in Shops at Merrick Park in Coral Gables and the Gardens Mall in Palm Beach Gardens, the trendy brand is hosting Peloton community meetups on the nights of September 5 and 19, respectively. Members of its global community who log in from their homes for workouts and camaraderie are invited to personalize Peloton apparel and shoes with their usernames and other fun custom phrases like words of affirmation or their favorite instructors' motivational mantras. The showrooms' sleek design emphasizes the disruptor nature of the brand and how founder John Foley, an e-commerce expert in the book world, upended traditional spinning classes. In 2012, the time-crunched executive and family man brought the exertainment movement of Flywheel and SoulCycle into one's home. It clicked with other busy professionals and parents—he's sold nearly 600,000 bikes retailing for $2,245 and added state-of-the-art treadmills for $3,995 last year. The company has expanded beyond equipment-based classes, too. Subscribers can also take yoga, barre, bootcamp, interval training and even meditation at home for a monthly fee. Peloton now operates four regional showrooms including Town Center at Boca Raton and Aventura Mall, whose kiosk is transitioning to a full-size space.
320 San Lorenzo Avenue, Coral Gables; 305.220.3652; 3101 PGA Boulevard, Palm Beach Gardens; 561.220.3652; Click here
---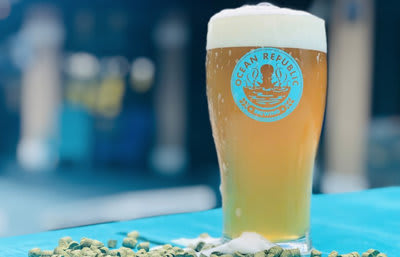 A local, beer-loving couple debuted Martin County's sole brewery in Illuminati Gastropub's former space in Stuart. Their hip Ocean Republic Brewing Company expands the Treasure Coast's thriving craft beer scene from Vero Beach's Orchid Island Brewing to Fort Pierce's Sailfish Brewing. Having two small children, they created a family-friendly setting with games like cornhole and human-scale Jenga for kids (and grown-up kids) to play, while mom and dad enjoy dinner and a frosty pint of one of their signature beers. Try Cucumber Ale, a golden variety made with organic cucumbers harvested at CoLab Farm in nearby Indiantown; Hibiscus Pale, an American pale ale with grapefruit notes, and Sand Dollar Saison, a farmhouse ale inspired by those crafted in France and Belgium. They're just as serious with the culinary side of operations. A diverse array of burgers offers angus beef, turkey and two types of veggie on stout beer buns, locally baked brioche or a gluten-free alternative. Also destined to be hearty hits are poutine with local mushrooms and white cheddar curds, and Old Bay-dusted cornbread fritters filled with chunks of cold-water lobster and bacon bits.
1630 SE Federal Highway; 772.600.5596; Click here
---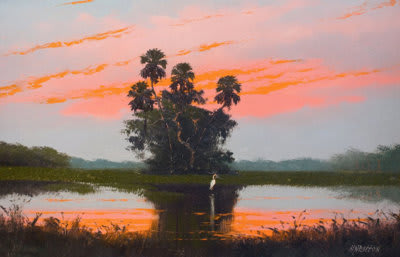 Long before South Florida became a hotbed for contemporary art, a group of marginal black artists known as the Highwaymen prolifically painted vivid landscapes of the Sunshine State during the mid-20th century. Their distinct paintings of tropical vignettes, which they sold from their car trunks to tourists and businesses as if they were door-to-door salesmen, are recognized today for their contribution to American folk art. Besides escalating in value, they're part of the permanent collection at the National Museum of African American History and Culture in Washington D.C., and the subject of a book, "The Highwaymen: Florida's African-American Landscape Painters." Nina Johnson art space in Miami exhibits "The Florida Highwaymen," a group survey of key historic works from a private collector who was an early fan, from September 6-28.
6315 NW Second Avenue; 305.571.2288; Click here
---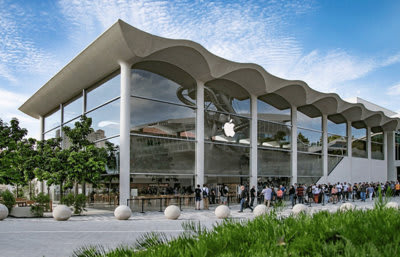 South Florida consistently pushes retail into the 21st century. Even its major retailers and big-box stores are next level. Apple recently unveiled its largest store in the state at Aventura with drop-dead gorgeous architecture by Foster + Partners. The unique design mimics ocean waves and local, midcentury-modern style while boasting enough space to fit an amphitheater with tiered seating for hundreds of visitors and an area for Today at Apple tutorials. Natural light floods large windows, and the expert staff has increased to nearly 350 employees to help select devices and accessories and fix any issues with your current ones. Miami Beach residents and tourists have big news as well. Miami's first-ever, compact-sized Target opened on the beach with customized merchandise for the cosmopolitan island locale and an onsite Starbucks and CVS pharmacy. But people are truly rejoicing about the new Trader Joe's near Lincoln Road, which saves them the long drive to South Miami. It just may be the hottest place in town these days.
19501 Biscayne Boulevard; 305.914.9826; apple.com. 1045 Fifth Street; 786.582.6708; target.com. 1683 West Avenue; 305.534.4951; Click here
---
We'll see you next week with even more of South Florida's places to go!