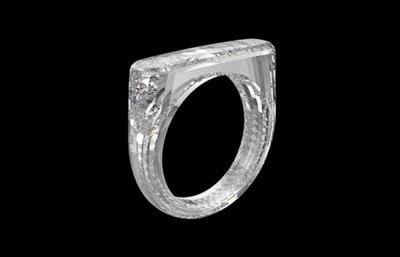 Bid on incredible artworks and designs like this bespoke diamond ring created by Marc Newson and Apple's chief designer officer Sir Jony Ive and support the fight against AIDS in one fell swoop. Sotheby's conducts a live auction for the third (RED) Exhibition in collaboration with Gagosian gallery and musician and activist Bono at the Design District's Moore Building (191 NE 40th Street) on December 5. Artist Theaster Gates and architect Sir David Adjaye co-curated approximately 50 contemporary works by themselves as well as Zaha Hadid, Leo Villareal, Christo, Marilyn Minter and others. Light and the color red are featured themes. The event has raised more than $500 million for the Global Fund's HIV/AIDS programs in Africa; funds also go toward the Chicago-based Rebuild Foundation this time.
---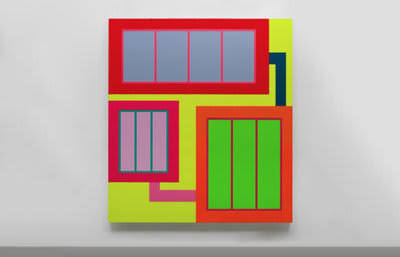 While at the Moore Building, visit another Basel-timed exhibit by Gagosian in partnership with art dealer Jeffrey Deitch. "Pop Minimalism / Minimalist Pop," which is on view through December 9, marks their fourth collaboration. The group show bridges the Pop art and Minimalism movements of the Sixties, and how each influenced contemporary artists like Jeff Koons, Sarah Morris, Richard Prince and Adam McEwen. Pulling from everyday images and objects from cartoons to supermarket brands to fluorescent lighting, the Pop section's works highlight the shift from Abstract Expressionism. The latter also was challenged by Minimalism's simple geometric forms and industrial materials. The modernists' new visual language set the tone for today's art. Peter Halley's 2018 Adrift is pictured here; photo by Matthew Grub courtesy of William Shearburn and Greene Naftali galleries.
---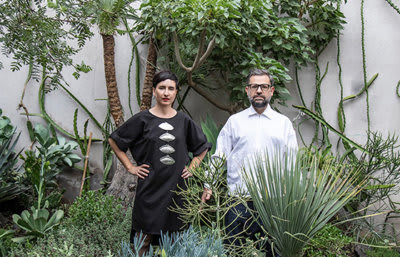 Carla Fernández is the first fashion designer to be honored with DesignMiami/ fair's Visionary Award. The founder of the eponymous fashion and home brand accepts the prestigious award along with her husband, the artist and designer Pedro Reyes. The Mexican couple was commissioned for a retrospective of their works, which are displayed in the fair's tent across from the Miami Beach Convention Center (Meridian Avenue and 19th Street). Pieces address craftsmanship in the digital age. For example, Reyes carved his three-legged Metate chairs with tools that haven't changed for thousands of years. Their collaborative, text-based map of first nations throughout the Americas is also exhibited; the map further appears on limited-edition tunics, ponchos and totes, whose proceeds benefit indigenous communities and migrant children separated from their parents at U.S. detention centers.
---
Locust Projects turns 20 with the publication of "The Twentieth Anniversary Retrospective" just in time for holiday gifts. The alternative art space also celebrates its milestone with impressive, music-filled exhibits. Jibade-Khalil Huffman, an American photographer and video and performance artist, opens "_______________" MEANS "I LOVE YOU" IN ITALICS. His concept immerses viewers in the local music and nightlife scenes through wheatpaste posters and spotlights as well as a mini-documentary screened on the back of a truck cruising around Miami Beach and the Design District. American artist Bethany Collins incorporates music, too, in "The Litany." Her installation features a custom-built chapel whose wallpaper pattern depicts state flowers of the South and those from African-Americans' Great Migration. Choirs sing all 100 versions of "My Country 'Tis of Thee" on December 6.
3852 North Miami Avenue; 305.576.8570; Click here
---
We'll see you next week with even more of South Florida's places to go!