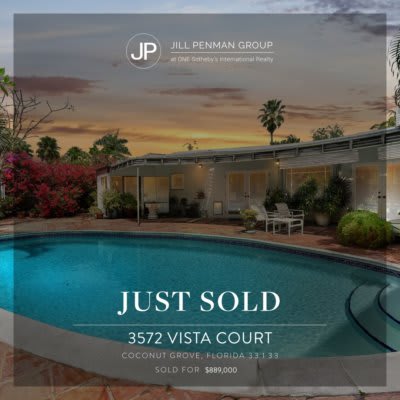 What an honor to be chosen to sell one of the homes featured in The Tropical Cottage by Beth Dunlop. This North Coconut Grove home is truly the epitome of Coconut Grove and the tropical vibe of Miami. This one-story residence features an open kitchen, a spacious layout and original marble and clay tile flooring. Banks of glass doors open to the vast front and back carefully landscaped native gardens. Beautiful swimming pool, tranquil koi pond, and an outdoor shower surround the home. What is so cool about this location is it is only steps to an open park with complete access to the Bay to exercise on the water or just take in the ocean breeze. The property is fully walled with an electronic gate and includes an additional studio and ample storage spaces. Amazing walkability to Kennedy Park, Fresh Market and the Coconut Grove marina. This North Grove location provides quick access to downtown Miami, Key Biscayne, Miami Beach and the airport.
We closed this within 1% of list price which is a huge success. Congratulations to the sellers and buyers who are thrilled to make it their own! CLICK FOR MORE DETAILS
Work with an experienced and trusted Coconut Grove market specialist as you explore real estate opportunities in Miami's most sought after communities. Call today for a buyer or seller consultation with the Jill Penman Group at 305.807.9199. My expertise in local real estate and the global luxury market delivers extraordinary service that has firmly established my brand as an international luxury real estate leader for the past 15+ years. Read more about how I tirelessly chase the results that matter most to our clients and reach out to experience this for yourself.
Share This Story, Choose Your Platform!