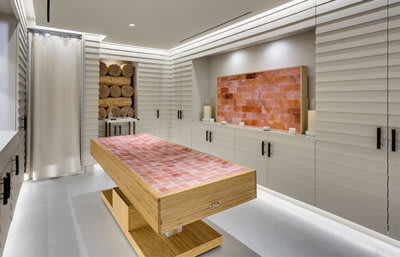 Halotherapy, better known as salt therapy, is among the fastest growing natural remedies. Though it's been around new-age circles for a while, salt rooms (or caves), salt tables and salt-infused services from scrubs to stone massages are becoming common and even expected in exclusive spas. The Bamford Haybarn Spa in 1 Hotel South Beach introduced a Himalayan salt table, pictured, for its signature Himalayan salt stone massage and Himalayan salt scrub services. But one doesn't have to book a salt-themed treatment to request the table, whose therapeutic properties enhance any wellness experience. The spa director added the amenity after studying how Himalayan salt detoxifies, lowers blood pressure and improves respiratory functions and skin conditions. Boca Raton Resort & Club, a Waldorf Astoria Resort also offers the elixir through its Himalayan salt stone massage. The 75-minute, full-body massage is popular for its extra restorative benefits. The trend has even taken over neighborhood strip malls, as yoga studios feature the amenity, and salt-focused wellness centers pop up. Cür Salt Spa in Jupiter offers a private salt booth as well as a custom sauna that accommodates up to three guests. Dry pharmaceutical-grade salt is ground into micro-particles fine enough to inhale deeply and soften skin. The effect alleviates conditions as diverse as colds, sleep disorders and allergies.
---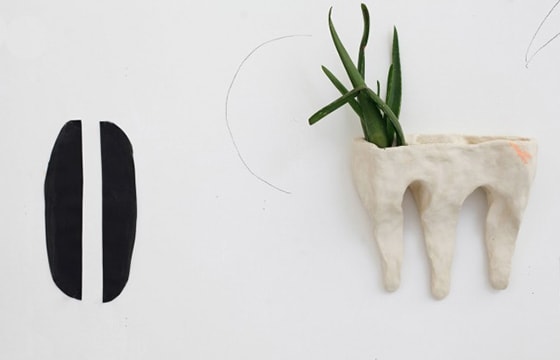 Being in the Caribbean's backyard, South Floridians may have special insight into Pérez Art Museum Miami's new group show. "The Other Side of Now: Foresight in Contemporary Caribbean Art" differs from most exhibits in that it starts with a question: "What might a Caribbean future look like?" Fourteen artists respond in the form of commissioned works. The twist is that they're challenged to think outside the box, meaning the well-worn narratives that have become the entrapment of an entire region's identity no matter how catastrophic their origin. In giving these artists a platform to share their personal anecdotes, collective memories and cultural heritage, they shine new light on the Caribbean and hope to write a new story. PAMM co-curated the show with a cultural studies scholar based at the University of the West Indies St. Augustine Campus to create a richer thread.
1103 Biscayne Boulevard; 305.375.3000;
---
Sant Ambroeus + Sotheby's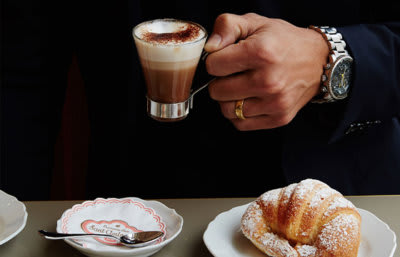 Palm Beach's dreamy Sant Ambroeus knows how its patrons should spend summer—out of the kitchen. The authentic Italian eatery hosts a special seasonal promotion (including September even though school is back in session) for prix-fixe lunches and dinners. Lunch, which is served Monday through Friday, and dinners from Sunday through Thursday feature three courses for $35 and $45, respectively. It saves the best for last, since diners may choose from any dessert on the regular menu to finish their decadent meal. The Florida outpost also continues its popular daily happy hour from 4-6 p.m., with tasty bites galore. Next time you're in New York, visit its coffee bar at Sotheby's new global headquarters for art exhibitions and auctions. The unique setting for a nosh naturally displays art, or guests can sip their espresso with a view on the outdoor terrace.
340 Royal Poinciana Way; 561.285.7990; 1334 York Avenue; 212.606.7070;
---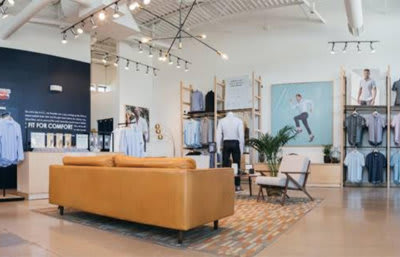 Some relief on the men's fashion front has come to South Florida. Dallas-based apparel brand Mizzen + Main opened its first company-owned store in the Sunshine State in Shops at Merrick Park. When you hear why it's already gained a big following, especially with professional athletes, you'll understand why it chose to expand here (and will probably launch a lot more locations up and down the peninsula). The style disruptor specializes in moisture-wicking, wrinkle-free dress shirts that don't require weekly trips to the dry cleaners—simply throw them straight into the washer and dryer. Some shirts feature French cuffs, and the collection has spawned additional styles like henleys, polos and pullovers. Sailors will recognize that the quirky name refers to ship masts, a nod to advancing the performance category.
358 San Lorenzo Avenue; 786.665.8106;
---
We'll see you next week with even more of South Florida's places to go!