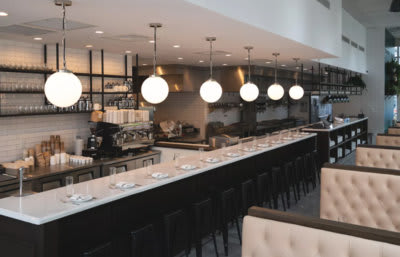 Beaker & Gray chef owner Brian Nasajon reinvented gigi's former restaurant space in Midtown Miami as Mason. Inspired by gigi's late-night menu, his upscale diner also serves creative comfort food into the wee hours; he's keeping Wynwood's hungry hipsters in mind. This crowd also appreciates lush potted plants and tufted leather booths in millennial pink, a pop of color amid white subway tile and silver-hued metal chairs. Hailing from a South American Jewish background, Nasajon's dishes pull from diverse regions. As an ode to New York-style delis, he offers nova lox- and dill cream-filled bagel bites and uses pastrami for massively thick sandwiches as well as in a decadent hash. Other items reference New England (clam chowder), and the South (mac n' cheese, buttermilk biscuits and gravy).
3470 North Miami Avenue; 786.618.5150; masoneatery.com
If you notice a ton of hospitality and lifestyle people in town next week, it's because LE Miami conference is taking place at the Miami Beach Convention Center from June 11-14. Its initials stand for Luxury Edition, and the posh event is a bit like Art Basel for the travel industry. The marketplace focuses on the creative class traveler, which represents 30 percent of the Western Hemisphere's workforce and increases seven percent annually. Dozens of guest speakers from hoteliers to editors will discuss topics like design, wellness and authenticity. This year's lineup features Michael Papadeas, who heads global partnerships for Frieze art fair; Amy Farley, a senior editor at Fast Company magazine; Miami-based architect Chad Oppenheim, and Hans Meyer, cofounder of Zoku, a home-office/hotel hybrid. SLS hosts the welcoming party on Sunday.
lemiami.com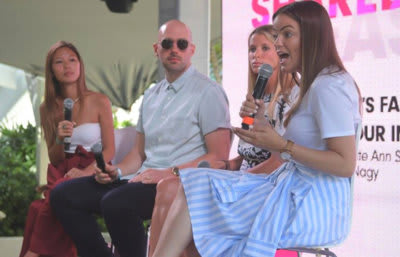 The Cooper, one of Palm Beach County's favorite farm-to-table restaurants, is hosting a pop-up beer dinner on June 14. Restaurateur Richard Rosenthal and chef Adam Brown are collaborating with Copperpoint and Sailfish breweries, which are based in nearby Boynton Beach and Fort Pierce, respectively. Guests begin with passed hors d' oeuvres like black-eyed pea cakes and watermelon gazpacho shooters with Copperpoint's Cold Brew coffee lager and Sailfish's White Marlin Wit. The first course of Korean lamb spareribs with kimchi, pictured, is paired with a couple IPAs (A 10 Hop Hog Red, Sunrise City). Next, Berkshire pork belly from Roth Farms in Belle Glade, Fla., and a corn puree are complemented by Sailfish's Tag & Release amber ale. Other delicacies are duck confit, peach chutney and a cheese plate with honeycomb.
4610 PGA Boulevard; 561.622.0032; thecooperrestaurant.com
The bustling Buena Vista neighborhood has a new retail and dining compound. With its chic, rustic architecture and towering tropical trees, Upper Buena Vista feels just like the eco-chic beach community of Tulum in Mexico's Yucatán Peninsula. Embracing the micro-retail trend, most of the boutiques are 250 square feet. Pure Soul, which has stores in San Juan, Puerto Rico, and Shelter Island, N.Y., expanded its concept for resort fashions and home wares like macramé hammocks. Mayra González, who once owned a vintage store in South Beach, returns with her fabulous vintage pieces at the House of Findings. House of V, a home collection in Miami, launched its first retail shop for throw pillows, candles and home fragrances made in Grasse, France. Dining offers shaved ice with toppings, poke and coffee.
184 NE 50th Terrace; 786.671.2626
1101 Biscayne Boulevard; 305.434.9600; frostscience.org
We'll see you next week with even more of South Florida's places to go!