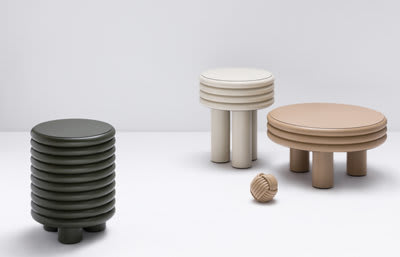 The Webster, Laure Hériard Dubreuil's celebrated den of chic, is moving into housewares. The designer fashion retailer launched a home section at her South Beach boutique. Stéphane Parmentier signed on as creative director for interiors. His namesake Parisian firm for interior architecture, design and creative direction works with luxury brands like Giobagnara and Hermès. He holds an extensive resume, having launched his career as Karl Lagerfeld's assistant and rising to top posts at Christofle and Givenchy. Hériard Dubreuil shopped his curated home department for Printemps de la Maison and hoped to emulate its diverse assortment at her store. The opportunity finally arrived when shoe designer Pierre Hardy introduced her to Parmentier, who sought a showroom for all the interesting pieces he sources on his global travels. Some of his favorite items for the Webster are Studio Formafantasma's signature vases in sky blue and khaki, beaded thrones by Nigerian artisans and a vintage floor lamp by the Memphis Group.
1220 Collins Avenue; 305.674.7899; Click here
---
Since Easter weekend boasts countless brunches and egg hunts, we narrowed down our picks throughout South Florida. Jason Stocks of Stuart's District Table & Bar is preparing brunch on April 20 at Kai-Kai Farm in Indiantown. His menu offers pulled pork and collard greens, veggie frittata and Krispy Kreme bread pudding with coffee anglaise.
8006 SW Kanner Highway; 772.597.1717; Click here
Ritz-Carlton Fort Lauderdale's Burlock Coast is going big for its April 21 brunch. Sushi, dim sum, raw-bar seafood and charcuterie are just some of the stations.
1 North Fort Lauderdale Boulevard; 954.302.6460; Click here
Bring a basket for the Flagler Museum's massive egg hunt on April 20 in Palm Beach. Children receive a souvenir Easter egg and photos with the Easter bunny.
One Whitehall Way; 561.655.2833; Click here
Tour Miami's Fairchild Tropical Botanic Garden while hunting for thousands of treat-stuffed eggs on April 21. Breakfast and mimosas are part of the festivities.
10901 Old Cutler Road; 305.667.1651;Click here
Check out West Palm Beach's new Norton Museum of Art after enjoying its restaurant's inaugural Easter brunch on April 21. Eggs Benedict and Bellinis will be served.
1450 South Dixie Highway, West Palm Beach; 561.268.0500; Click here
---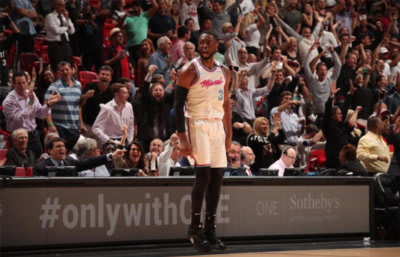 As the official real estate partner of the Miami Heat, ONE SIR congratulates professional basketball player Dwyane Wade on his well-deserved retirement. The team's top leader in points, assists, steals and games played his final game on April 10. President Barack Obama to LeBron James paid tribute to one of the sport's greatest legends at the emotional end to his illustrious career. During his 16 N.B.A. seasons, Wade garnered three N.B.A. championships with the Heat and the 2006 Finals MVP award. His talents also took him to the Olympics, where he scored a gold medal in 2008, and to 13 All-Star games. We'll miss seeing his #3 jersey as well as his sparkling sneakers on the court but look forward to spotting the Miami resident around town as he begins his next chapter. See you next basketball season.

---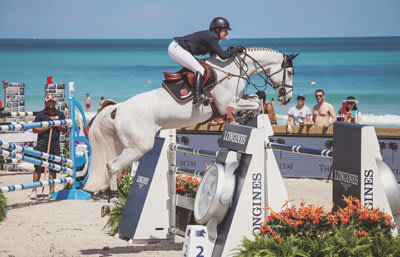 Equestrian sport fans are in for a super treat this weekend, as two major events take place in Miami Beach and Wellington. The Longines Global Champions Tour occurs directly on the sand in South Beach between the Setai and W hotels from April 18-20. International riders including top-ranking leader Niels Bruynseels from Belgium and Americans like Jessica Springsteen, Georgina Bloomberg and Ariana Rockefeller compete in show jumping, while Swiss watch maker Longines clocks their performance as the FEI's official time keeper. Scheduled for Easter Sunday, Wellington-based International Polo Club hosts the Gauntlet of Polo: U.S. Open Polo Championship. The organization's biggest match with high-goal teams concludes its winter polo season. A special Easter egg hunt is planned on the polo field, too, so don your Easter bonnet and purchase tickets here.
globalchampionstour.com. 3667 120th Avenue South; 561.838.3409; ipc.coth.com. Click here
---
We'll see you next week with even more of South Florida's places to go!