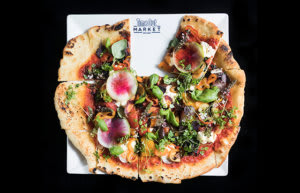 Time Out Market, the long-awaited food hall imported from Lisbon, opens to the public on May 9 in South Beach. Several boldface names from politicians to newscasters were spotted at the packed preview party on Wednesday night. They lined up for frosé at one of three bars, whose cocktail menus were created by local mixology haunts Sweet Liberty and Broken Shaker, as well as for sample bites from 18 eateries by the city's top toques. Attendees were happy to see chef Shuji Hiyakawa back on the scene after shuttering his popular Wabi Sabi for Japanese cuisine on the mainland. Other hits are Azucar's ice cream in gourmet, Latin-themed flavors, Coyo Taco's battered fish tacos, and Miami Smokers' charcuterie. For those who have always dreamt of dining at the French Laundry in Napa Valley, alum chef Miguel Massens kicks off the market's culinary residency program. Diners can enjoy his five-course, prix-fixe tasting menus on select nights, while he preps for his pending restaurant, Antilia. The 18,000-square-foot hall operates daily; hours vary depending on vendor and day but are generally from 11 a.m.-11 p.m. and midnight on weekends. The international culinary concept plans to expand to Montreal, Chicago, Boston, New York, Prague, Dubai and London.
1601 Drexel Avenue; Click here
---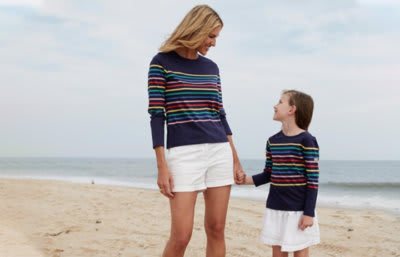 Two Palm Beach fashion experts unveiled LaunchPad, a clever retail concept for fashion, accessories and lifestyle that introduces brands to the market. Designers and activations constantly rotate, so every visit is completely fresh and new—a major incentive for the island's legendary clotheshorses who shop daily. The founders, a fashion editor and publicist who worked at Vogue, were bored with traditional shopping. They sought items that were beautifully made but departed from the typical designer labels seen at every luncheon. In the past few weeks, they've hosted Miguelina resort wear, Rochelle Sara swimwear and Benincasa Milano shoes. The Striped Sheep, a mommy-and-me collection of cotton knits in classic stripes, pops up through Mother's Day on May 12. Its unisex styles and colors are designed for moms to wear with daughters and sons alike.
150 Worth Avenue; 561.660.5076; Click here
---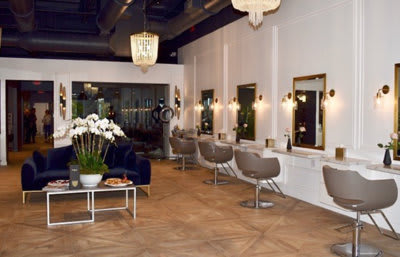 Jerome & Co. brings the upscale salon experience to Jupiter. Proprietor Jerome Salmon, a celebrity colorist from France who's been with Frédéric Fekkai at the Brazilian Court Hotel in Palm Beach since 2005, listened to his north Palm Beach clientele's complaints about the drive from areas like Stuart, Jupiter Island and Vero Beach for hair services. He and his wife, Diana, designed their salon to resemble a Parisian apartment with parquet-patterned porcelain floors, classic molding and chandeliers. Fresh flowers and orchids brighten up the space with eight styling stations. Jerome divides his time between both salons, where he's known for the balayage technique favored by blondes who want a sun-kissed look. The couple also offers conditioning and keratin treatments, mani/pedis, waxing, makeup, brow shaping, lash tinting and bridal services.
4050 US Highway 1; 561.675.0800
---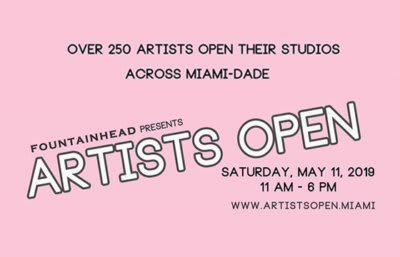 The Fountainhead, a culture-focused nonprofit based in Miami, presents the inaugural "Artists Open" on May 11. From Little Haiti to Doral to Hialeah to Coral Gables, nearly 300 artists throughout Miami-Dade County will open their studio spaces for public tours from 11 a.m. to 6 p.m. The idea is for people to experience the artistic process and engage with the creative minds shaping the region's art scene. In addition to opening its studios, Laundromat Art Space (5900 NE Second Avenue) exhibits "All That Glitters Is Not Gold." American painter and curator Erin Parish curated the group show about separating truth from smoke and mirrors through works by nearly a dozen artists including Marilyn Minter, Jeff Koons and Damien Hirst. Go to the Fountainhead's event website to download the map for other participating studios and look for the bubblegum-pink banners.
---
We'll see you next week with even more of South Florida's places to go!